570 men & boys!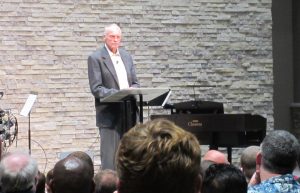 When The Wild Mountain event team started planning the Teaching Boys the Way of Men conference, we thought it would be exciting to see 150 people show up. Apparently, we underestimated the size of the itch we were trying to scratch.
At the event, pastor and author Zeke Pipher spoke on how to be good at being a man, the importance of initiating boys into manhood, and his two new books on these subjects. Dr. Tom Osborne spoke on his experiences as a father, grandfather, and mentor. And Senator Ben Sasse (via video) referenced the example of Teddy Roosevelt as he encouraged men and boys to get "in the arena" and become men of action (see video below).
It was a powerful night. Our event team continues to hear from attendees who are stirred up and eager to take next steps. Toward that end, we're hosting a workshop on October 1 (see flyer at the bottom of this post) designed to drill down into the practical questions/issues surrounding teaching boys the way of men. We will discuss how to form tribes and initiate boys into manhood, and how to use The Wild Man fable & Wild Mountain Tribe guidebook as resources. This follow-up event is free & open to all men & boys.
In addition to the event, each attendee was given The Wild Man fable & Wild Mountain Tribe guidebook. If you are forming tribes or needing to purchase these books for your church or men's group, you can do that here.
If you attended the event, please leave a comment below letting us know what you thought of the evening. Here is the video that Senator Sasse prepared for our event:
[pexyoutube pex_attr_src="https://youtu.be/TX0_1IZ-9vw"][/pexyoutube]